HBO's John Adams series is really great
Catch it, if you can.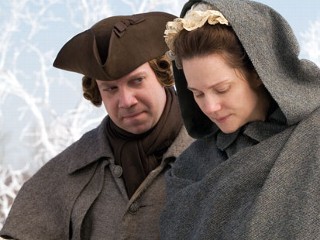 Part Four of the series airs this week and it is just the best of the first four. Paul Giamatti is just the embodiment of John Adams and has brought the Founding Father to life for me. Laura Linney, who plays his wife, has the most enchanting, dancing face and her portrayal of Adams' wife Abigail is pure delight.
In parts 3 and 4, we see the fat, liberal, phoney, shallow France portrayed in all its painted silliness and it seems to me that this is what America has become at the hands of liberals. But in those days the frivolous culture in France was shown transparent by the earnest culture of the young America. Today, the pampered liberal American establishment is shown to be cowardly fools by the new, evil power of Islamofascism. Like the painted France who couldn't hold its place in the world next to the hardworking upstart America , the liberal establishment in today's America can't possibly rise to the occasion to defeat evil and it won't.
The only thing I don't like about the series is the portrayal of Thomas Jefferson as a bit of a gay fob.